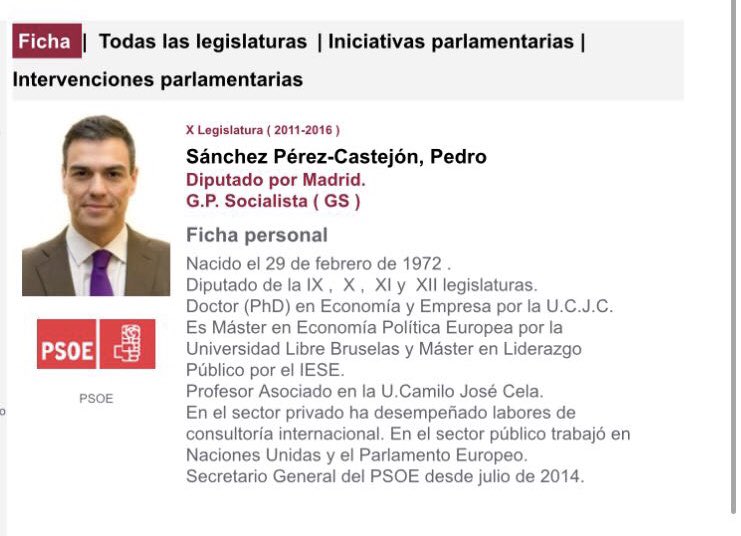 This is the cv of Mr. Sanchez and that looks good with a small note, actually a side note. Mr. Sanchez, the new Premier has no master's. He writes that, but it is not the case.
This reminds me so much of the scandal surrounding Mr. Charles Swietert in the Netherlands, who was only state secretary for three days in the 1980s. Ver much so, it is virtually an identical situation, he claimed he was a doctorandus, but that was a lie, he mentioned it in his resume .. like Mr. Sanchez with his not existing master's. Swietert also reported that he had been a lieutenant in the armed forces, but in reality he was a corporal, one rank above a soldier, and then you have dug a political grave for yourself.
"Three days after he took office as State Secretary on November 8, 1982, Schwietert stepped down, his credibility being at stake, the reason being that he had included in his curriculum vitae that he had the title of doctoral candidate while he was never at a university. He also claimed to have been a lieutenant in the Dutch army, he was only a corporal, and the three days that Schwietert was in office was for a long time the shortest reign for a cabinet member. "

You can check the claim of the Master's of our Prime Minister Sanchez on this link. Masters falso

So you can see that you see jokers everywhere.

I fear that we will face early elections or I should be very wrong.
San Daniel 2018
Best verkochte boeken in leestips
for more info concerning San Daniel press the following link/ voor meer info betreffende San Daniel druk op de link a.u.b.:landingspage-san-daniel
en 
Nederlandse auteurs page van San Daniel in Hebban
and the page of Dutch authors in Hebban
Author's pages:
Amazon author's page San Daniel
Deel dit artikel aub! / share this information please! 
Vriendelijke groet en God Bless, kind regards and God Bless!